It's a question any genre fan will ask themselves at some point. What fantasy fiction should I read now? Do you revert to the classics, or do you explore the new fantasy books of 2019?
Why not dive back into The Lord of the Rings, venture through Westeros for the third time or go for something a little bit out there but still tried-and-tested, like The Lies of Locke Lamora? Well, because while these established legacies are all well and good, every year sees more and more amazing works of new fantasy books hit the shelves, and 2019 is going to be no exception.
So, forget about the classics. Forget about those novels you've been saying you'll read for years, because 2019 is all about new fantasy books. Let's take a look at the best new fantasy books of 2019 so far, and what new fantasy book releases are coming up as well.
*Note, this is not an affiliate program. I do not make money from any sales made though these links. I'm just here to share the best new fantasy books of 2019 with fans of the genre.
New Fantasy Books of 2019: Quick Breakdowns
Get all the information you need quickly with these brief highlights.
Want more information about one of these new fantasy books of 2019? Click on the images to jump to more details about each novel!
Black Leopard, Red Wolf
Author: Marion James
Rating: 3.7
Length: Medium
Subgenre: High Fantasy
Who Is it For? Somebody looking for experimental, outside the box fantasy
Where to Start: This new fantasy book of 2019 is the first in its series
Highlight Review: Black Leopard, Red Wolf is the kind of novel I never realised I was missing until I read it. - Neil Gaiman
Seven Blades in Black
Author: Sam Sykes
Rating: 4.2
Length: Medium
Subgenre: Contemporary/YA
Who Is it For? Fans of Trudi Canavan's Black Magician trilogy, this new fantasy book of 2019 is all about developing a world based around immersive magic
Where to Start: First in the series, start here
Highlight Review: Exciting and inventive. I never realised how much I needed wizard-hunting gunslingers in my life. Buy Sam's book' - Peter V. Brett
The Ruin of Kings
Author: Jenn Lyon
Rating: 4.2
Length: Long
Subgenre: Epic Fantasy
Who Is it For? Fans of epic fantasy that love to see magic and demons mixed with politics
Where to Start: This new fantasy book of 2019 is the first in its series
Highlight Review: An extraordinary book. Enthralling and deeply, deeply satisfying. I loved it. - Lev Grossman
Master of Sorrows
Author: Justin Call
Rating: 4.1
Length: Medium
Subgenre: Epic Fantasy
Who Is it For? Fans of young adult fiction who enjoy sprawling epic fantasy, but prefer a modern tone of voice when it comes to prose and narrative design
Where to Start: This new fantasy book of 2019 is first is the saga.
Highlight Review: Master of Sorrows is a brilliant and riveting tale of having the courage to find and choose one's path, and it left me wanting more - Novel Notions
Bloodwitch
Author: Susan Dennard
Rating: 4.8
Length: Medium
Subgenre: Epic/Young Adult
Who Is it For? For those that become enchanted by dark magic and epic world-building.
Where to Start: This is the third and final book in The Witchland Series. Start with Truthwitch.
Highlight Review: Stuffed full of your favourite fantasy treats… This book will delight you - Robin Hobb
A Time of Blood
Author: John Gwynne
Rating: 4.9
Length: Short
Subgenre: Epic/Mythology
Who Is it For? Steeped in a deep mythos, this new fantasy book of 2019 is well suited to those who enjoy stories that are based around monsters and legends
Where to Start: Second in the series, start with A Time of Dread
Highlight Review: This is extraordinarily good, an epic feat of the imagination… A new benchmark in fantasy. - Giles Kristia
New Fantasy Books of 2019: Brand New & Unreleased
The Poison Song
Author: Jen Williams
Length: Medium/Long
Subgenre: Epic/Dark Fantasy
Who Is it For? The Poison Song is for fantasy fans who like to explore rich and diverse fantasy lore, with a bit of grim violence and bloodshed thrown in for good measure alongside it
Where to Start: This new fantasy book of 2019 is the last in the series, start with The Ninth Rain.
Bloodchild
Author: Anna Stephens
Length: Short
Subgenre: Epic/Grimdark Fantasy
Who Is it For? A combination of dark and epic fantasy, Bloodchild brings together concepts of grimdark with sprawling world-building and diverse cultures
Where to Start: This new fantasy book of 2019 is the final Anne Stephens' The Godblind Trilogy. Start by reading the first novel, Godblind.
Crowfall
Author: Ed McDonald
Length: Medium
Subgenre: Grimdark Fantasy
Who Is it For? McDonald's new fantasy book of 2019 is a twisted tale of bloody consequences, perfect for those fans of Joe Abercrombie and the grimdark genre
Where to Start: This is the finale of the Raven's Mark series, start with Blackwing.
Sin Eater
Author: Mike Shel
Length: Short
Subgenre: Dark/Epic Fantasy
Who is It For? Fast-paced and suspenseful, Sin Eater combines dark elements with traditional fantasy concepts echoing popular roleplay games
Where to Start? Shel's new fantasy book of 2019 is the second in the Iconoclasts series, start with Aching God.
The Dragon Republic
Author: R.F. Kuang
Length: Medium
Subgenre: Grimdark Fantasy
Who Is it For? Designed around ancient Chinese culture and concepts of shamanism, this book is for those who like a rich and character-driven story with dark and unexpected turns
Where to Start: The second book in the series, start with The Poppy War
A Little Hatred
Author: Joe Abercrombie
Length: Long
Subgenre: Grimdark Fantasy
Who Is it For? Joe Abercrombie is a legend of the grimdark scene. Anyone who enjoys dark fantasy stories will find something in his latest outing
Where to Start: A new fantasy book of 2019 that kicks off a series, you many still want to consider starting with The Blade Itself.
New Fantasy Book of 2019 Releases: What's Already Out?
The Details: Written by acclaimed author, Marlon James, the new fantasy book of 2019, Black Leopard, is the first in a planned trilogy. Originally touted as being the next Game of Thrones (although this was later said to be a joke by James) the world of fiction was nonetheless buzzing upon the release of this new fantasy book in 2019. The novel is inspired by African mythology, and draws heavily upon political influences of the continent and tribal culture. The entry point to James' new Dark Star series, the narrative of Black Leopard takes on a unique, almost ethereal quality. Receiving rave reviews and massive amounts of interest right out the gate, this novel has secured itself the title of one of the best new fantasy books of 2019, and definitely something any fan of the genre should consider reading.
The Blurb: Tracker is a hunter, known throughout the thirteen kingdoms as one who has a nose - and he always works alone. But in this new fantasy book of 2019, he breaks his own rule when, hired to find a lost child, he finds himself part of a group of hunters all searching for the same boy. Each of these companions is stranger and more dangerous than the last, from a giant to a witch to a shape-shifting Leopard, and each has secrets of their own. As the mismatched gang follow the boy's scent from perfumed citadels to infested rivers to the enchanted darklands and beyond, set upon at every turn by creatures intent on destroying them, Tracker starts to wonder: who really is this mysterious boy? Learn the truth in one of the best new fantasy books of 2019.
The Details: "Everything epic fantasy should be" - this is how one reviewer described The Ruin of Kings, Jenn Lyons' new of fantasy book of 2019. The first novel in what promises to be an exhilarating series of new fantasy books, the story tears apart many of the classic tropes we're used to and offers up a new take on the genre, while still offering a slice of familiarity at the same time. A rich and diverse opener, Lyon's work is primed to be not only one of the best fantasy books of 2019, but also an introduction to a world that will continue to make list like these for years to come. Now is the perfect time to get in on the ground floor with this new fantasy book. A novel guaranteed to be a journey unlike any other, with the second book already hotly anticipated.
The Blurb: As a bard's apprentice, Kihrin grew up with tales of legendary deeds. He also steals, desperate to buy a way out of Quur's slums. Then he raids the wrong house, he's marked by a demon and life will never be the same again. In Lyon's new fantasy book of 2019, we follow Kihrin's plight at it brings him to the attention of royalty, who claim him as the lost son of their immoral prince. But far from living the dream, Kihrin's at the mercy of his new family's ruthless ambitions. However, escaping his jewelled cage just makes matters worse. Kihrin is horrified to learn he's at the centre of an ancient prophecy. And every side – from gods and demons to dragons and mages – want him as their pawn. Those old stories lied about many things too, especially the myth that the hero always wins. Then again, maybe Kihrin isn't the hero, for he's not destined to save the empire. In a great of example of how new fantasy books of 2019 are defying tropes, maybe he's destined to destroy it.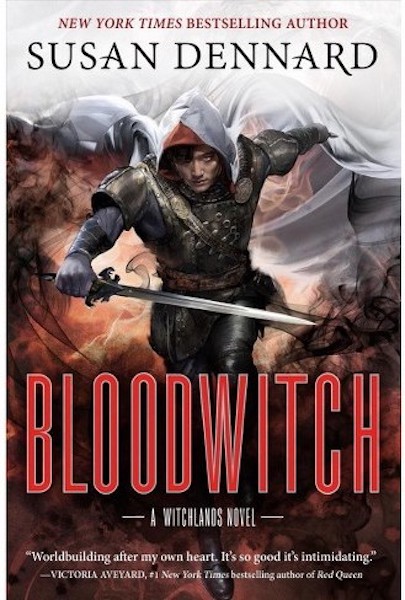 The Details: It is so rare to see a book series that improves over time. Often, an author seems to drive right out the gate on a high, only for quality to dip over time as they become too familiar with their world, or ideas start to flounder and readers realise they aren't going to get the answers or conclusions they crave. When it comes to Susan Dennard's The Witchlands series, this is far from the case. Only getting better as time has gone on, her new fantasy book in 2019, Bloodwitch, is the third primary title in the series and has been met with a massive (and incredibly positive) fan and critical response. It's hard not to describe this new fantasy book without giving too much away, but let's just say the third installment alone is enough to make you think about getting on board with the entire Witchland saga.
The Blurb: In this new fantasy book of 2019, loyalties will be tested as never before. The Bloodwitch Aeduan and Iseult the Threadwitch race for safety, desperate to evade the Raider King. His attempts to subdue the Witchlands are gaining momentum, as his forces sow terror in the mountains, slaughtering innocents. Despite differing goals, Aeduan and Iseult have grown to trust one another in the fight to survive. Yet trust is a tenuous bond . . .
The Details: Established author Sam Sykes has seen great acclaim across his works in the genre. Now he brings us a new fantasy book for 2019, in the form of Seven Blades in Black. The son of legendary writer Diana Gabaldon of Outlander fame, Sykes has fantasy in his blood, and in his latest series, he demonstrates that affinity for the genre to devastating effect. Known for his trope-defying narratives and intense dialogue, we've been served up a new fantasy book of 2019 that truly meets expectations. Described as 'exciting and inventive' Seven Blades in Black is the first in a new series by the writer, promising readers an epic journey that will almost certainly deliver on every front. If you are looking to begin a new fantasy adventure this year, you can't go wrong with Sykes' latest offering.
The Blurb: Set in the Scar, where the magical, decadent Imperium battles the upstart, technologically-savvy Revolution, this new fantasy book of 2019 follows the exploits of Sal the Cacophony, the most famous and dangerous of all the rogue mages. Among humans, none have power like mages. And among mages, none have will like Sal the Cacophony. Once revered, now vagrant, she walks a wasteland scarred by generations of magical warfare.
The Scar, a land torn between powerful empires, is where rogue mages go to disappear, disgraced soldiers go to die and Sal went with a blade, a gun and a list of names she intended to use both on. But vengeance is a flame swift extinguished. Betrayed by those she trusted most, her magic torn from her and awaiting execution, Sal the Cacophony has one last tale to tell before they take her head. In Syke's new fantasy book of 2019, all Sal has left is her name, her story and the weapon she used to carved both. Vengeance is its own reward.
The Details: Who can you trust to bring you one of the best new fantasy books of 2019? How about a man who has studied fantasy fiction for two decades. Master of Sorrows is the debut fantasy outing by author Justin Call, and has already garnered much positive attention from critics and fans alike. A marriage of young adult and adult fantasy, this novel is the first in The Silent Gods series, which means if you are hunting for a new fantasy book of 2019 that is only just starting up an epic saga, then Master of Sorrows could be the perfect choice for you. With reviewers touting the story as classic-epic-fantasy meets new-age voice, Call's new series is set to be something well worth keeping an eye on.
The Blurb: You have heard the story before - of a young boy, orphaned through tragic circumstances, raised by a wise old man, who comes to a fuller knowledge of his magic and uses it to fight the great evil that threatens his world. But what if the boy hero and the malevolent, threatening taint were one and the same? What if the boy slowly came to realise he was the reincarnation of an evil god? In this new fantasy book of 2019, would he save the world . . . or destroy it?
The Details: Author John Gwynne is no stranger to fantasy. His previous series, The Faithful and the Fallen, was received to great acclaim. This year, he is back with a new fantasy book for 2019, in the form of A Time of Blood. The second in his Of Blood and Bone saga, this novel is picking up rave reviews from both critics and fans. It brings with it yet more epic storytelling, building on the successful outing of the books precursor, A Time of Dread. Noted by reviewers as 'a brilliantly compelling heroic fantasy', amoungst much other praise, the release of this new fantasy book in 2019 means it is definitely worth picking up the Of Blood and Bone series, and seeing it through to the end.
The Blurb: At the battle of Starstone Lake, Drem and his friends witnessed horrors they'll never forget. They saw magic warping men into beasts and a demon rise from the dead, creating something new and terrifying. So they flee to warn the Order of the Bright Star. But in this new fantasy book of 2019, the demons' high priestess, Fritha, is determined to hunt them down.
New Fantasy Books Coming in 2019: Planned Releases
The Poison Song (May 16th)
The Details: The final instalment in Jen William's 'Winnowing Flame' trilogy, this new fantasy book of 2019 promises to bring a thrilling conclusion to a series wrapped in dark magic, gripping character drama and shocking moments unique to grimdark. Jen William's world of Ebora has been one of the most enthralling new fantasy book experiences to come out of the genre in the past few years, featuring an eclectic range of immersive cultures and lore alongside intense action. The Poison Song is poised to be one of the best new fantasy books of 2019, and will be released in May of this year. Now is the time to pick up the proceeding novels, and explore William's unique realm before the 16th of May.
The Blurb: Ebora was once a glorious city, defended by legendary warriors and celebrated in song. Now refugees from every corner of Sarn seek shelter within its crumbling walls, and the enemy that has poisoned their land won't lie dormant for long. The deep-rooted connection that Tormalin, Noon and the scholar Vintage share with their Eboran war-beasts has kept them alive so far. But with Tor distracted, and his sister Hestillion hell-bent on bringing ruthless order to the next Jure'lia attack, the people of Sarn need all the help they can get.

Noon is no stranger to playing with fire and knows just where to recruit a new – and powerful – army. But even she underestimates the epic quest that is to come. It is a journey wrought with pain and sacrifice – a reckoning that will change the face of Sarn forever.
The Details: Mike Shel is one of the more relatively unknown authors on this list, but that by no means is a comment on the quality of his work. His debut novel, Aching God, was well received by fans of the fantasy genre and his new fantasy book of 2019 looks set to further his mounting success. With the first book in his Iconoclast series noted as being a dark but epic tale of powerful world-building and interesting inclusions of classic fantasy elements - such as mages, swordmasters, priests and the like - Sin Eater promises to further develop on his exciting and immersive narrative.
The Blurb: A year has passed since Auric Manteo descended into the haunted depths of a Djao ruin to return a lethal artifact, only to face down a bloodthirsty, imprisoned god. Now his daughter Agnes comes to bring him back to the capital with promises of hidden secrets finally revealed. But the city decays, poisonous disorder is rife, and whispered prophecy foretells of cataclysm and doom. Summoned by their no-longer human queen, Auric and Agnes are commanded to carry out an impossible task, one that can be accomplished only with the mysterious blade Szaa'da'shaela, gifted to Auric on a lunatic's whim. In this new fantasy book of 2019, can Auric and his daughter survive a journey fraught with blood, menace, and madness? And can they pay the price demanded by a being every bit as evil as the Aching God?
The Details: Ed McDonald's powerhouse series of dark fantasy novels has gone from strength to strength since the release of Blackwing in 2017. Set in a bleak and often desolate world, these short but sweet new fantasy books aren't typical of the genre. They are light on their feet, without lots of the meandering world-building many writers fall prey to. Instead, the story-telling is swift, brutal and utterly enthralling, from the first page to the last. June will see the release of the third in the series, Crowfall, which is guaranteed to a best new fantasy book of 2019 that you do not want to miss.
The Blurb: A sorceress cataclysm has hit the Range, the final defensive line between the Republic and the immortal Deep Kings. Tormenting red rains sweep the land, new monstrosities feed on fear in the darkness, and the power of the Nameless, the gods who protect the Republic, lies broken. The Blackwing captains who serve them are being picked off one by one, and even immortals have learned what it means to die. Meanwhile the Deep Kings have only grown stronger, and this new fantasy book of 2019 sees them poised to deliver a blow that will finally end the war. Ryhalt Galharrow stands apart from it all.
The Dragon Republic (July 22nd)
The Details: The Poppy War, the debut novel by grimdark fantasy author R.F Kuang, was a stunning introduction to a truly unique and captivating fantasy world. One of the best new fantasy books of the last year, it stormed to the top of many best-seller lists and was welcomed with great critical acclaim. A realm inspired by ancient Japanese dynasties, The Poppy War is crafted around a drug-addled state beset by violence and twisted magic. The beautifully designed story meshed elements of fantasy with darker notes of horror and complex politics. The end left us wanting much, much more, and luckily we'll be getting exactly what we've been craving, with the release of The Dragon Republic in July of 2019.
The Blurb: In this new fantasy book of 2019, the aftermath of the Third Poppy War has put shaman and warrior Rin is on the run: haunted by the atrocity she committed to end the war, addicted to opium, and hiding from the murderous commands of her vengeful god, the fiery Phoenix. Her only reason for living is to get revenge on the traitorous Empress who sold out Nikan to their enemies. With no other options, Rin joins forces with the powerful Dragon Warlord, who has a plan to conquer Nikan, unseat the Empress, and create a new Republic. Rin throws herself into his war. After all, making war is all she knows how to do.
The Details: It all started in 2017, with the release of new fantasy book Godblind, carried forward by Darksoul, and now it ends with Bloodchild. Anna Stephen's bewitching fantasy series has been received to great critical acclaim, but it's really the creativity and inventiveness behind the world the author has built that should really get you excited for the conclusion to this epic trilogy. Promising to bring together twisting tales of Gods and kingdoms torn to pieces, Bloodchild is guaranteed to be one of the most thrilling new fantasy books coming in 2019.
The Blurb: In Stephen's new fantasy book of 2019, the great city of Rilpor has fallen. Its walls have crumbled under the siege by the savage Mireces; its defenders have scattered, fleeing for their lives; its new rulers plot to revive the evil Red Gods using the city's captured, soon-to-be-sacrificed citizens. Now, with the Fox God leading the shattered remnants of the Rilporian defence and the Mireces consolidating their claim on the rest of the country, it's up to Crys, Tara, Mace, Dom and the rest to end the Red Gods' scourge once and for all.
A Little Hatred
(Sept 17th)
The Details: It's been eleven long and arduous years since we've had a new fantasy book in the The First Law series. Joe Abercrombie never left the fictional scene, but his new fantasy books were often spin-offs or short story pieces. They might have offered new depth to his world, but what fans have really been clawing for is a true follwup to the saga of Logan, Ferro, Glockta and the rest. Amongst the new fantasy book releases of 2019, we'll finally see that return. Slated for September 2019, A Little Hatred seems set to jump into the future, and feature the offspring of some of our most beloved characters, and the resurgence threats better left buried.
The Blurb: The chimneys of industry rise over Adua and the world seethes with new opportunities. But old scores run deep as ever. On the blood-soaked borders of Angland, Leo dan Brock struggles to win fame on the battlefield, and defeat the marauding armies of Stour Nightfall. He hopes for help from the crown. But King Jezal's son, the feckless Prince Orso, is a man who specialises in disappointments.

Savine dan Glokta – socialite, investor, and daughter of the most feared man in the Union – plans to claw her way to the top of the slag-heap of society by any means necessary. But the slums boil over with a rage that all the money in the world cannot control. Abercrombie's new fantasy book of 2019 sees the dawn of the age of the machine, yet the age of magic refuses to die. With the help of the mad hillwoman Isern-i-Phail, Rikke struggles to control the blessing, or the curse, of the Long Eye. Glimpsing the future is one thing, but with the guiding hand of the First of the Magi still pulling the strings, changing it will be quite another…
Got through all the new fantasy books already released and can't wait until the latter half of the year for the rest of the new fantasy books of 2019? The Azrian Anthology fantasy eBook might just keep you satisfied -- at least for a few days or so! Don't want to download an eBook? You can read short stories online right here as well.